Now when traditional FDs are providing less interests day by day, Mutual Fund investment is the best option to beat the inflation and have enough amount to secure your future.
There are many apps for mutual funds investment now in the market, which allows you to invest in mutual funds very easily with just few clicks. But all of them are not good. You need to see certain things before you start investing using an app – Security, Charges, Direct plans allowed or not, features, usability, transaction success rate, etc.
Here in this bog we are going to share with you the 5 best app for mutual funds investment which have all the good features mentioned above. They are fast, secure, full of features and completely free. But which one you should go with? Read the complete article, and you will be able to select one which best suits your need.
What is Mutual Fund?
Mutual Fund is a trust that collects money from investors. Then, it invests this money in equities, bonds, money market instruments and/or other securities. Each investor owns units, representing a portion of the holdings of the fund. The profit/gains generated from this collective investment is distributed proportionately amongst the investors after deducting some expenses.
5 Best app for Mutual Funds investment
1. Coin by Zerodha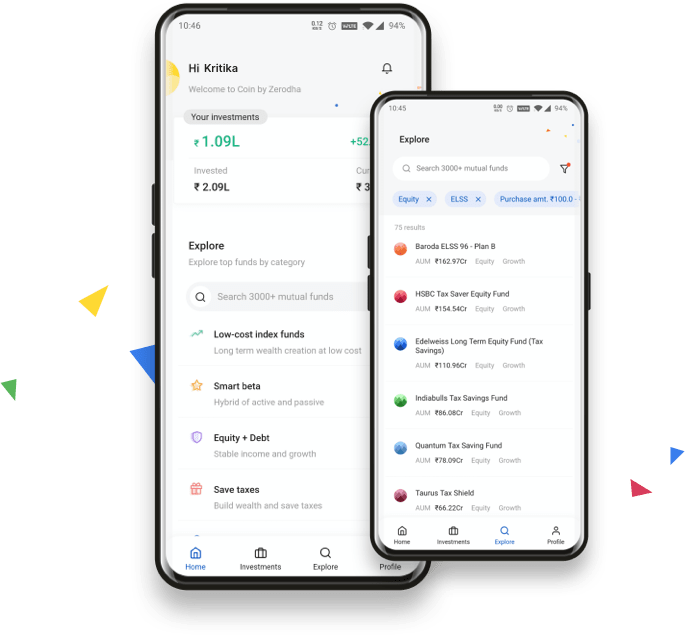 The name of the application is COIN and the owner is Zerodha. It is one of the best app for mutual funds investment. Its is smooth to use and allows you to invest in Direct mutual funds without any brokerage (zero fees). Zerodha is a well known investment platform, which has other investment apps as well. So, if you already have a Zerodha account, you can use the same account to get into Coin and start investing directly from your account balance.
This app allows you to create modify or stop SIP (Systematic Investment Plan) anytime you want with just few clicks. This supports a wide range and variety of mutual funds and fund house.
Key Features of Zerodha Coin
Directly invest with your Zerodha account balance.
Simple and fast UI with focus on Mutual Funds.
Wide range of funds and fund house supported.
Both Android and iOS apps are available.
Manage SIPs anytime without with create, modify and delete options.
Purchase by UPI payments supported.
2. Groww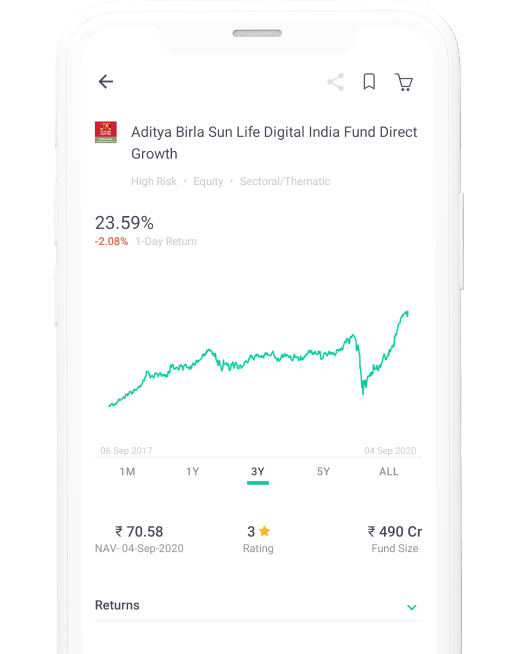 Groww has a very clean and smooth UI. It is too one of the best app for mutual funds investment. This can be a good choice for new investors. The app also supports KYC to be done for mutual funds through the app itself without any paper work or going out of your home.
The application has 128-bit SSL encryption that keeps all your financial details secure. Hence, you can consider this app closing your eyes if you need a clean app focused on direct mutual fund investments.
There is only one issue with this app if you are living outside India. This app is only available in India. You can use the app outside India, but for installing the app for the first time, you need to be present in India, or you need to connect to a VPN and try. This is because we have seen this app is not shown in play store if the location is outside India.
Key Features of GROWW app
Clean UI for easy and fast investment
One-step e-KYC
Single dashboard for tracking the investments.
Secure transaction through 128 bit SSL encryption
Inbuilt SIP calculator
You can invest in stocks as well with the same app.
3. Kuvera
Kuvera is third in the list of – best app for mutual funds investment. Kuvera has lot of features apart from just investing and tracking. The app is too smooth enough. There are features like goal tracking features. In this feature you can set goals of you life and the app will automatically calculate how much you need to invest and in which funds.
There is another feature where you can track your family investment at one place. Also, you can manage the investments for you family members.
The app is available to download outside India as well unlike Groww. We have checked this thing personally.
Key features of Kuvera app
Complete online account opening process
Family account management features
Zero commission or hidden charges
Goal based investment calculator and fund suggestions.
Direct plan investment and switch options.
4. myCAMS Mutual Fund App
myCAMS app is created by Computer Age Management Services Limited, which is a mutual fund transfer agency to many Indian asset management companies. So, this app is basically the best for those persons, who do not want to go with third party company apps. This is because CAMS is the heart of most asset management groups like Aditya Birla, HDFC, etc. So, you should not be worried about your money getting stuck with third party apps. (Though all other apps mentioned here are completely safe and very much reputed).
The drawback of this app is that it only supports those funds whose fund house's transfer agency is CAMS. So, other fund houses like Parag Parikh, etc, will not be available here. Moreover, the user friendliness of the app is not great compared to others.
Key features of myCAMS app
Zero brokerage and no hidden charges
Easy mutual fund investment procedure – But flexibility is less compared to other apps in the list.
Owned by CAMS directly.
Supports all fund houses which are under CAMS. (This makes the support list a bit lesser compared to others)
5. ET Money
ET Money app is created by Times Network and managed by Economic Times publication. Hence, this apps has gained trust at a different level. This is also an award winning Mutual Fund investment app in India. If you do not know about Times Network or Economic Times. its the India's most popular and trusted media for financial and investment related news and articles.
This app just like Kuvera, provides you facility to input your goals, and the app will automatically calculate and suggest you mutual funds according to your goal and time you have for investment. You can pay in this app using popular apps like, GPay, PhonePe, Paytm, etc. This app also provides you the ranking of the mutual funds according to its historical performance.
Key features of ET Money app
Payment modes like PhonePe, GPay, Paytm etc.
Zero-cost mutual funds investment
Owned by Times Network and maintained by Economic Times
ETMoney also has Expense Tracker app.
Auto suggest of Mutual Funds according to the Goals.
Ranking of Mutual Funds based on historical performance.
Conclusion
There are many other apps in the market and more apps are being launched. We have selected a 5 best app for mutual funds investment in this post based upon trust and easiness of usage and also features. You can start investing with any of the above mentioned apps. All of them are free to use and also without any brokerage. They all allows to invest in Direct mutual funds, where you can save your brokerage.
Let me know in the comment section below which of these apps you are using and also do let me know if you are using completely out of the list app.
For more information about mutual fund investment do checkout our posts under Mutual Funds category.
An IT guy who keeps interest in blogging. Started blogging since 2017. He is the owner of the blog wheretosave.in and knowledgebear.com. A family man who loves Travelling, Gadgets and FOOD.